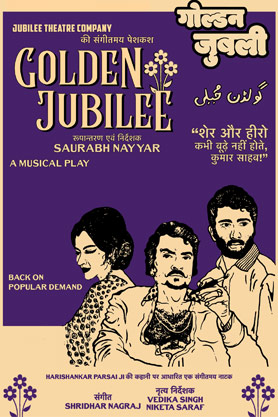 IHC Theatre Festival 2023. Golden Jubilee. This musical is a satirical take on the popular formulae of the golden era of Indian cinema. It follows two lovers, Rakesh and Ranjna. They first meet when Rakesh saves Ranjna from eve-teasers and they quickly fall in love. But a rich moneylender who wishes to marry Ranjna tries to create hurdles and misunderstandings in their love story. Their struggle to be together in the face of a gaping class divide forms the rest of the story.
The lead actor, Girish Sharma, playing Rakesh Kumar, a yesteryear superstar, is a delightful combination of Dharmendra, Rajendra Kumar and Rajesh Khanna, with touches of Tragedy King Dilip Kumar and Jumping Jack Jeetendra.
From his bell-bottom trousers and flamboyant shirts to his acrobatic dance steps, Sharma does a perfect comic imitation of the stars who ruled the screens in the 1960s. The giggly heroine, Ranjana (Niketa Saraf who plays the role needs to have a more flattering wardrobe and hairstyle to portray yesteryear heroines) nimbly matches the hero's steps and skips away after moments of affected flirtation—so like Asha Parekh bidding adieu to Rajesh Khanna with a coquettish 'Achcha to hum chalte hain' or Rajshree playing hide-and-seek with Biswajeet in verdant gardens and forests, singing 'Na yeh zameen thi, na yeh aasman tha...tera mera pyaar yun hi jawaan tha'.