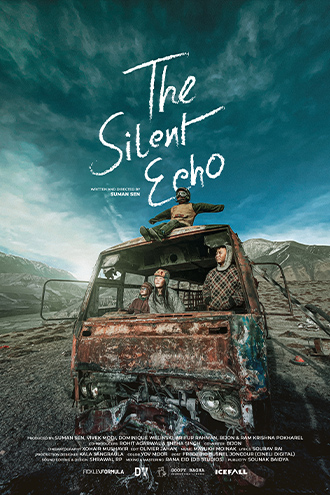 Best of Critics Choice Awards 2023 by the Film Critics Guild.The Critics Choice Awards celebrate the best short films, web series and feature films from the past year across 23 categories. The shorts film package presents a selection of nominations for the 2023 awards, curated by the members of the Film Critics Guild.
The Silent Echo (Nepali/ 2021/17mins) Dir. Suman Sen. Four teenagers, from a remote mountain village, spend their days in an abandoned bus on a ridge, playing music. When a band competition is organized in a neighboring town, they gather money and courage to be part of it.
Little Wings (Tamil / 2021/21 mins) Dir. Naveenkumar Muthaiah. An old woman trapped in a bitter marriage is pushed to the brink when her paralyzed husband sets out to consume her pet rooster.
7 Star Dinosaur Entertainment (Hindi/2021/ 20 mins) Dir.Vaishali Naik. Two dinosaurs who earned their living dancing in weddings and parties, are now stuck indoors thanks to the pandemic. As hunger and the cramped space suffocates them, will the behemoths resort to their primal instincts?
Nauha (Hindi / 2022 / 26 mins) Dir. Pratham Khurana. Coming of age of 22-year-old Kishan through his experience of taking care of a 75-year-old dying Babuji.
Lalanna's Song (Malayalam, Hindi/2021/30 mins) Dir.Megha Ramaswamy.Two disenchante girlfriends, played with fearless immediacy by Parvathy Thiruvothu and Rima Kallingal, shepherd their young kids to a birthday party. Overwhelmed by the demands of motherhood and shaken by an incident of racial profiling they experience on the way, they are unprepared to meet Lalanna, a precocious preteen girl who suavely pushes their buttons. Seeming to possess all the promise and confidence the two women have lost, Lalanna unleashes within them a merciless instinct to set her straight.