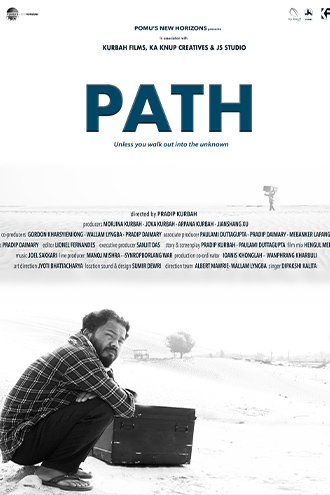 Under The Waters ( 2022/Marathi/ 18 mins) Dir. Ambieca Pandit. When a sexual transgression is inflicted upon a pubescent boy at the hands of an older teenage male, the two silently ricochet between anger and longing, fear and denial while on a beach vacation with their families. Submerged under the weight of toxic masculinity, the film unpacks a uniquely male mode of communication, using the camera to explore rigid bodies, repressed emotion, and sudden bursts of shocking violence.
The Horse From Heaven (2022/Assamese/20mins) Dir. Maharshi Kashyap. Kuxhol is travelling to the city with Goti, the horse from heaven. Kuxhol tells the amazing story about their adventures to everyone he meets on his way. He claims Goti to be the fastest horse in the world. Everyone finds it bizarre in the beginning as they can see that Goti is not a horse, but a donkey. Well, eventually his audience starts believing in his tale and the Heaven's Horse.

Path (2022/silent/20 mins) Dir. Pradipp Kurbah. When the pandemic hit us, we were soon to know about the phrase 'embracing the new normal'. There is nothing normal about the loss of livelihood, nothing normal about having to walk for hours. While the privileged embraced a new world, those who were worst affected, fall through the gaps. Path, however, is a personal story of a lone journey, a man takes as India readies herself for the onslaught of the virus.

Rishabh Saini V-Log 076 (2023/Hindi/10 mins) Dir. Kritik V. An early morning V-Log leads a man to be a part of an elaborate prank.

Viral( Hindi, Marathi, Urdu/2022/ 23 mins) Dir. Shreyas Dasharathe. Shiny and Bandu are avid fans of Hammad, an egg-seller from Karachi who has found a huge online following in their city of Mumbai but is virtually unknown in his own vicinity. They connect online and what follows is a heartfelt journey to a promising friendship that exists in the borderless realm of the online world.