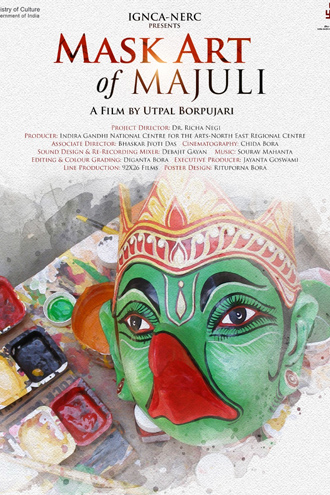 Best Documentary (Bronze) at North East Film Festival, Mumbai, 2023; 6th International Folklore Film Fest Thrissur, Jan 2023; 29th Vesoul International Film Festival of Asian Cinema, France, 2023 (In
Competition); 11th Chennai International Documentary & Short Film Fest 2023 (In Competition); Indie8 Documentary Film Festival, Shillong 2023
The numerous Satras (Vaishnavaite monasteries) of Majuli, the world's largest inhabited river island, are not only religious places of great significance but also form the heart of Satriya culture that was created by 15 th century saint, poet, playwright, social reformer and cultural icon Srimanta Sankardev.
One key element of the Satriya culture is the masks that are worn by performers during
Bhaona, which are dance dramas based primarily on Hindu mythology. These masks – or "Mukha" as they are called in Assamese – represent an intricate art form, and artisans create them in a unique and totally organic way using biodegradable material.
This film creatively documents the Mask Art form of Majuli, focusing on the only two
families that are keeping the practice alive at the Natun Chamaguri Satra, including award-
winning mask maker Dr Hem Chandra Goswami.