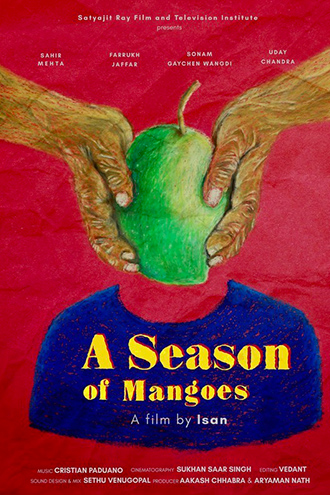 A Season of Mangoes (2022/English, Hindi/39 mins) Dir. Ishan Sharma. A young man struggles to keep his grandmother from losing her memories and realises that time is a lie.
Raavi (2022/Punjabi/14 mins) Dir. Jasmine Kaur Roy. Fear and insecurity plague the mind of 73 year old Raavi as she finds herself trapped in her own home. While she wallows in the misery of her confinement, some scraps of memories float from a distant past and find release. The past and present fuse seamlessly and suffering acquires a new meaning.
Kulfi (2022/Bengali/6 mins) Dir. Chirantan Das. The story describes the sweet relationship grandparents share with their grandchildren, and how the sudden loss affects the child, who doesn't fully understand it.
Kameez (2022/Hindi/20mins) Dir. Dhrubajit Baishya. This story revolves around a 60-year-old father who is a tailor by profession. His son had left the house 7 years ago and hasn't returned till date. Before his son left, he had sewed a shirt for him which was left behind. For 7 years his son has been sending money but doesn't return back home. Now the old tailor has lost hopes of his son's return and keeps on talking with that particular shirt which was left behind. This story is not about a father-son relationship but it is about the comparison or juxtaposition of two generations. It's about the ideology clashes which exists in them.
Frog is the Pond's Witness (2022/Hindi/3 mins) Dir. Anuj Malhotra. On a night like any other, a digital passerby stumbles upon an unencrypted cloud folder of images captured by a surveillance camera. These turn out to be the records of the various shadowy activities that transpire on the sidelines of an annual religious congregation inside the park of a New Delhi residential colony. As the passerby investigates the artefacts, he begins to ponder the secrets they reveal about the colony, the fictions palpable within them, the maps of exclusion they lay bare, the violence resident in the process of their creation and his own, odd obsession with them.

Bandit Bazooka ( 2022/Hindi/30 mins) Dir. Divyesh Gandhi. The film shows how an impoverished child Robin is caught in a crossfire between the vacuous threats of a petty criminal (Piyush Kumar) and a corrupt police officer (Kuljeet Singh) who lures him with false aspirations to keep him as his informer. Taken advantage of by both, Robin finds a way to free himself from these "bandits of society" and uphold his prized sense of freedom.