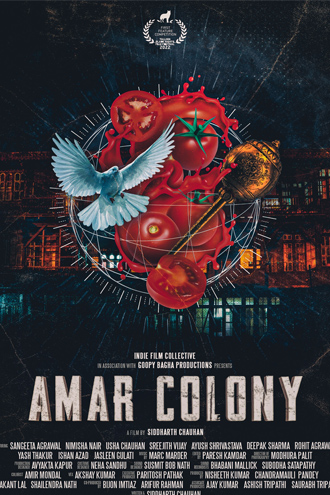 Awards: Special Jury Prize at Tallinn
Best Debutant Director,IFFK 2022
Festivals: Tallin Black Nights Film Festival, Estonia, International Film Festival of Kerala (IFFK), UK Asian Film Festival (Selected), Independent Days International Film Festival (Selected)
Meera is beautiful, pregnant, and in search of some spice in her life. Mohit is young, idle, and lives next door with Devki, his abusive mother. Meera has a boring and absent husband. But wait to see what the guy is hiding. Her aunty Durga is old and hopes to become immortal, her other half has a secret in his shop that nobody knows about, except his young grandchild who is smarter than it seems. They all live in a dilapidated building called Amar Colony.
​
"Amar Colony" is life itself with its psychological conundrums, its scandals, and its politics. Its inhabitants embody multigenerational humanity, bound together in a limited space. They meet, they talk, they cheat, they have secrets and they share meals, they love each other, abuse each other, believe in god, and refuse to die.

With its washed color palette and a romantic decadent setting, this film is a satire on mankind. A delicate and unique portrait of an exotic community that in fact represents all of us.